Supplier Information Pack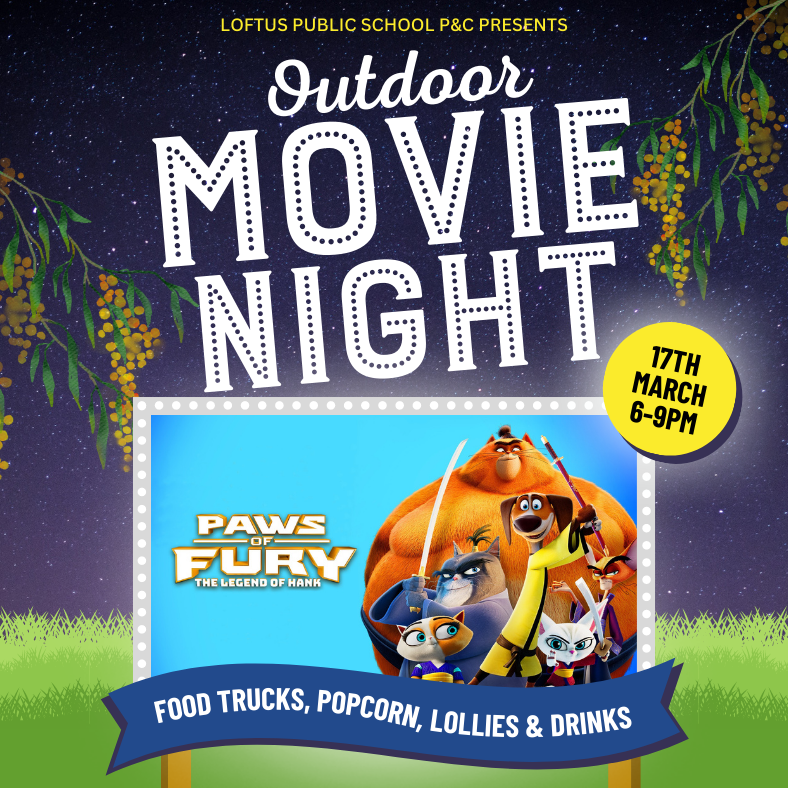 Event Details
The Loftus Public School P&C hosts an annual Outdoor Movie Night to bring together the school community and encourage relationships between students and families.
This year we will be screening Paws of Fury: The Legend of Hank.
The event opens at 6pm and will close at 9pm. It is expected the bulk of trade will be completed between 6pm and 7.30pm will slow down once the movie commences.
See the event page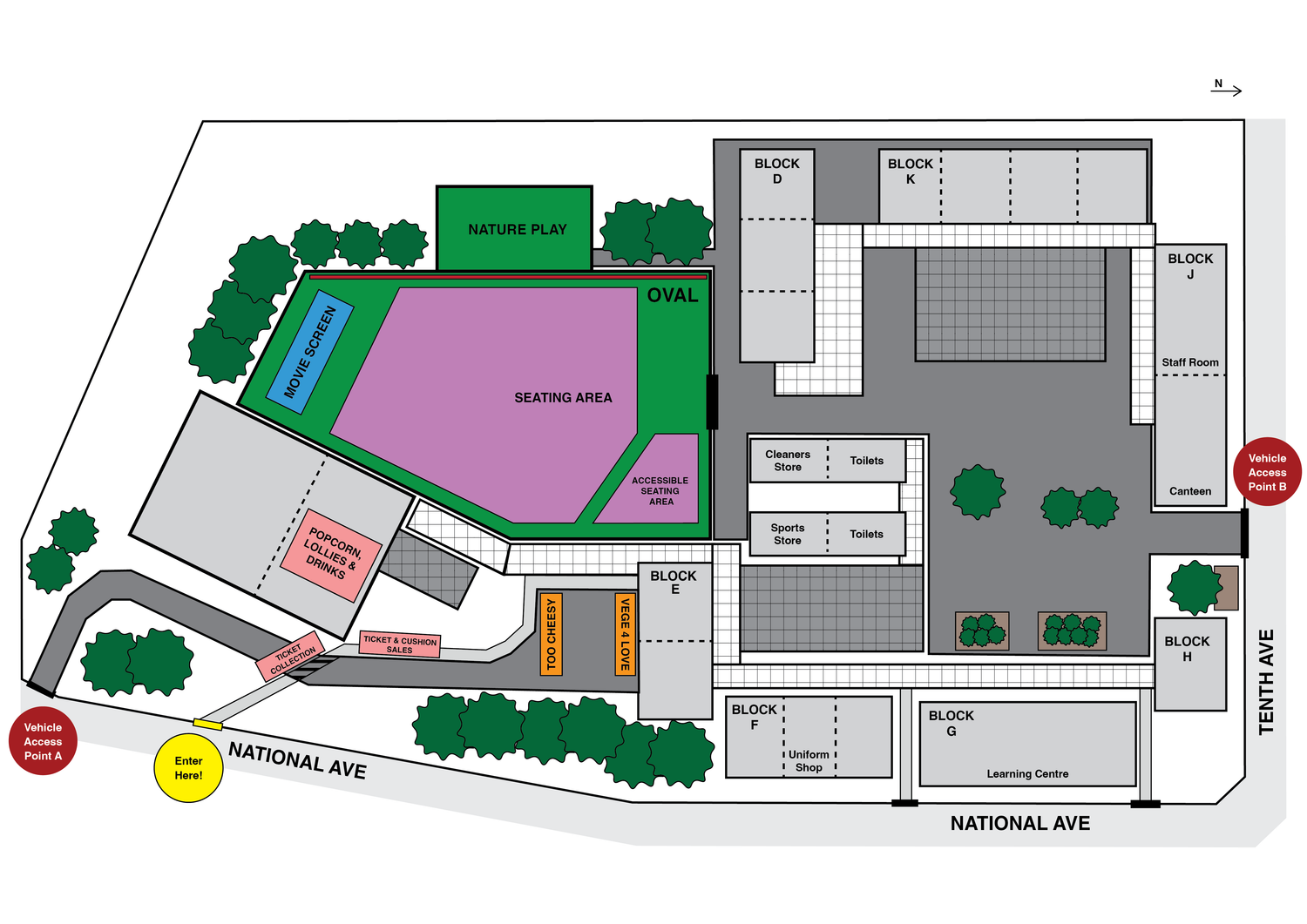 Event Map
This is the final event map.
Entry will be via Vehicle Access Point A
Contact Information
For any questions about the event, please contact the Event Coordinator:
Corinne Archer, 0402 462 771
Fees
The presribed fees for 2023 are:
25% of total sales to be donated to Loftus Public School
Terms and Conditions
General

Suppliers are required to their supply name, email address, phone contact and details of what products will be sold.
Your space is not secured until your Public Liability
Insurance and Working with Children checks have been received.
Rude, abusive or other disruptive or offensive behaviour will not be tolerated.
If these Terms and Conditions are not adhered to, we reserve the right to ask you to leave immediately.
No space to be sub-let or transferred to another party.
Products

The sale of some products is restricted and prior approval must be sought from the Event Committee including dangerous goods and any product which competes with or duplicates a stall provided by the Event Team.
The Event Committee reserves the right to alter the list of restricted products at any time.
Suppliers wishing to add new products must seek approval from the Event Committee
Fees

Fees are either to be collected on the night or via transfer to the Loftus Public School P&C accounts within 1 week of the event.
Trading

Trading hours are between 6pm and 8.30pm. Suppliers must be ready for trading at 5.45pm and vacate the site by 9.30pm.
Setup commences from 4pm and suppliers will be allocated a staggered bump-in time based on their allocated location to ensure the safety of the Suppliers and the event team.
Public Liability Insurance

All Suppliers must have their own Public Liability Insurance. It is the responsibility of the Supplier to ensure that their Public Liability Insurance covers both the products they are selling and the location of the event.
Public Liability Insurance should cover all products and all staff working for the Supplier.
Working with Children Checks

As this is an event on school grounds and attended by children, all members of the Suppliers team who are attending the event will be required to provide a valid Working with Children check prior to the event for verification
Allocated Space

All goods for sale must be contained in the allocated space, no overhangs are permitted.
All Suppliers are responsible for the removal of their own rubbish, unsold goods and cartons. Rubbish must not be placed in school bins. If this rule is violated then a penalty charge will apply.
Gazebos must be weighted down. Most spaces are set up on asphalt/concrete with no ability to secure pegs or tie off ropes.
Vehicles

Your nominated Vehicle entrance will be provided as part of your bump-in information
For public safety, the event area will be closed to all vehicle movement between:
- 3.15pm and 4pm
- 5.45pm and 9.15pm
All directions given by the LPS Event Team must be followed and vehicles must not block roadways and access points
Weather

A wet weather plan has been devised to move the event indoors
The LPS Event Team reserve the right to cancel the event if inclement weather renders the event unsafe.